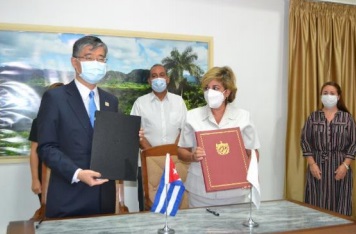 HAVANA, Cuba, Sep 17 (ACN) The government of Japan granted Cuba a donation of high-tech equipment for emergency services, the first international assistance signed under the mandate of the new Japanese Prime Minister, Yoshihide Suga.

Kazuhiro Fujimura, ambassador of Japan, highlighted the importance of being able to help Cuba in midst of the full spread of COVID-19 worldwide.
This donation gives continuity to cooperation with Havana, we will work to materialize it and continue the collaboration between the two governments and peoples, the diplomat emphasized.
The amount of ultrasound and X-ray equipment, as well as suction machines destined for the emergency services of hospitals and polyclinics throughout the country, rises to 500 million Japanese yen (about 4.7 million US dollars).
Fujimura and Deborah Rivas, Cuban Deputy Minister of Foreign Trade and Foreign Investment, signed the exchange of notes regarding the donation.
Rivas told ACN that the support with this medical equipment is very timely, given the COVID-19 pandemic.
This is the fourth stage of the implementation of the Economic and Social Development Program that began with the delivery of waste collection equipment and will continue with buses to support urban transportation, she said.