Mexico hands over ECLAC presidency to Cuba
Share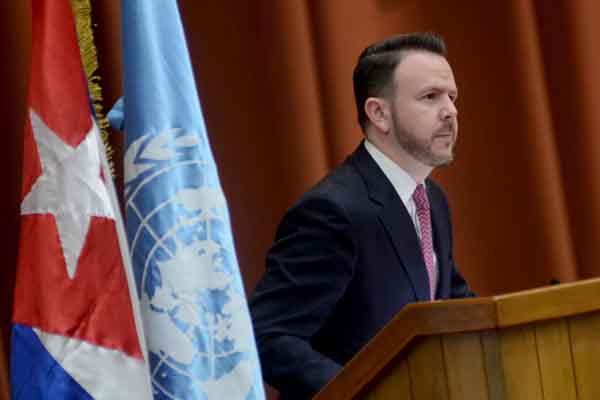 HAVANA, Cuba, May 8 (ACN) Francisco Guzmán Ortiz, head of the office of the President of Mexico, transferred the presidency of the Economic Commission for Latin America and the Caribbean (ECLAC) to Cuba during the opening of the XXXVII session of the regional body today.

After conveying a greeting from Mexican president Enrique Peña Nieto to the new President of the Cuban Council of State and Council of Ministers, Miguel Díaz-Canel Bermúdez, the Mexican official referred to his country's management of ECLAC over the past two years.
He was confident that Cuba will contribute with its leadership to the results of this organization in the period 2018-2020.

He assured that in this responsibility, his nation's purpose was to build and decisively assume the challenges presented at the beginning of the century, particularly in closing the gaps of structural inequality that still characterize the region.
Guzmán Ortiz said his Government worked with the conviction of unity between the 45 member States of ECLAC and the 13 partners, while announcing concrete results in the areas of population and development, South-South cooperation, technological platforms, statistical tools and information.
The Mexican official acknowledged that despite the challenges, the area's growth and development potential is greater, and that its economy is accelerating in a similar way to the global dynamic.
If there is one thing we have learned in the last decade, it is that what is important is not only the magnitude of growth, but also the quality, he pointed out, while calling on the countries of the United Nations to adopt the Agenda 2030 for Sustainable Development, a roadmap for overcoming current challenges.
The decision to transfer the ECLAC presidency to Cuba was unanimously endorsed by its members at the previous session, held in Mexico in 2016.
The current intergovernmental meeting, held at the Havana Convention Centre, analyses the most important issues for the economic and social development of the nations of the region and assesses the progress of ECLAC's activities.
Since the triumph of the Revolution in January 1959, Cuba is the venue of the great forum for the first time since 1949, when the capital hosted the Second Ordinary Session.