Cuban President visits places of interest in Ireland
Share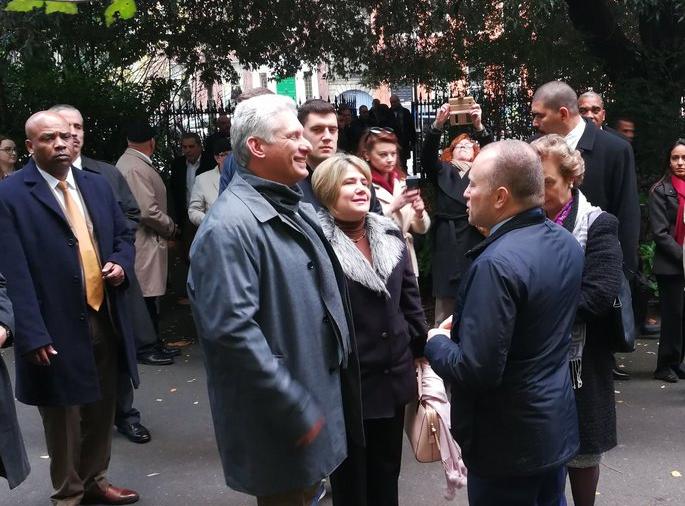 HAVANA, Cuba, Oct 21 (ACN) Miguel Diaz-Canel, President of the Republic of Cuba, and the delegation that accompanies him, visited places of historical and cultural interest in Dublin, capital of the Republic of Ireland, where he arrived today to carry out an official visit until the next day 22.

The president arrived at St. Stephen Green, built in 1664 and considered one of the oldest public parks in Ireland, located in the center of Dublin is a green space with wooded areas, meadows and monuments of important personalities of the country, reported from the headquarters the site of the Presidency.
Before the visit began, Mr. Brian Glynn, Director of the Americas of the Ministry of Foreign Affairs of Ireland, offered comments to the press where he emphasized that "this visit is very important for the two countries that are united by history".
The Cuban President also toured Trinity College and walked Dawson Lane, appreciated the official Residence of the Mayor of the city and listened to the explanations of the Rector of the High House of Studies, Dr. Patrick Prendergast.
A press release reads that at Trinity College Diaz-Canel University he was interested in the faculty of one of the most prominent academic centers in Ireland.
Two nations united by history "share the same sea of struggles, hopes and future," he wrote in the guestbook.
The Cuban president also visited St. Patrick's Cathedral, one of the most emblematic sites in Dublin and Ireland.
Diaz-Canel will hold official conversations with his Irish counterpart, H.E. Mr. Michael D. Higgins; he will exchange with the Prime Minister of that country, H.E. Mr. Leo Varadkar, and will carry out other activities.
Upon his arrival in Dublin, the President of the Republic was received by Emma Madigan, Director of Protocol at the Ministry of Foreign Affairs and by the Cuban Ambassador, Hugo René Ramos.
Cuba and Ireland commemorate this year the 20th anniversary of the establishment of diplomatic relations, which have developed uninterruptedly since October 29, 1999.
Cuban President visits places of interest in Ireland
HAVANA, Cuba, Oct 21 (ACN) Miguel Diaz-Canel, President of the Republic of Cuba, and the delegation that accompanies him, visited places of historical and cultural interest in Dublin, capital of the Republic of Ireland, where he arrived today to carry out an official visit until the next day 22.
The president arrived at St. Stephen Green, built in 1664 and considered one of the oldest public parks in Ireland, located in the center of Dublin is a green space with wooded areas, meadows and monuments of important personalities of the country, reported from the headquarters the site of the Presidency.
Before the visit began, Mr. Brian Glynn, Director of the Americas of the Ministry of Foreign Affairs of Ireland, offered comments to the press where he emphasized that "this visit is very important for the two countries that are united by history".
The Cuban President also toured Trinity College and walked Dawson Lane, appreciated the official Residence of the Mayor of the city and listened to the explanations of the Rector of the High House of Studies, Dr. Patrick Prendergast.
A press release reads that at Trinity College Diaz-Canel University he was interested in the faculty of one of the most prominent academic centers in Ireland.
Two nations united by history "share the same sea of struggles, hopes and future," he wrote in the guestbook.
The Cuban president also visited St. Patrick's Cathedral, one of the most emblematic sites in Dublin and Ireland.
Diaz-Canel will hold official conversations with his Irish counterpart, H.E. Mr. Michael D. Higgins; he will exchange with the Prime Minister of that country, H.E. Mr. Leo Varadkar, and will carry out other activities.
Upon his arrival in Dublin, the President of the Republic was received by Emma Madigan, Director of Protocol at the Ministry of Foreign Affairs and by the Cuban Ambassador, Hugo René Ramos.
Cuba and Ireland commemorate this year the 20th anniversary of the establishment of diplomatic relations, which have developed uninterruptedly since October 29, 1999.