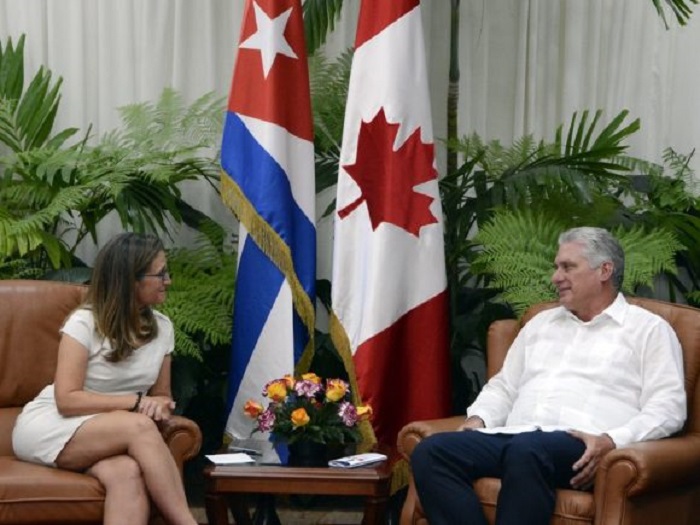 HAVANA, Cuba, Aug 29 (ACN) The President of the Councils of State and Ministers, Miguel Diaz-Canel Bermudez, received on Wednesday the Minister of Foreign Affairs of Canada, the Honorable Christya Freeland, who is making a working visit to Cuba.
During the cordial meeting they exchanged about the state of bilateral relations and the will to continue expanding them in all areas. They also discussed issues of mutual interest on the international and regional agendas.
President Diaz-Canel thanked Canada for its traditional support for the resolution against the blockade, which is approved each year at the United Nations General Assembly, and for the position taken by the government of that country regarding the application of the Helms-Burton Act.
He reiterated Cuba's solidarity with the Bolivarian Republic of Venezuela and its concern over the damage caused to that Latin American nation and its population by the economic sanctions, the policy of siege and the isolation to which it has been subjected. The president also expressed that the Monroe Doctrine is a danger for the entire hemisphere.
The distinguished visitor was accompanied by Canadian Ambassador to Cuba Perry John Calderwood, and Policy Advisor in the Office of the Minister Trevor Harrison.
On the Cuban side, the Minister of Foreign Affairs, Bruno Rodriguez Parrilla and the Director General of Bilateral Affairs of the Ministry of Foreign Affairs also participated.