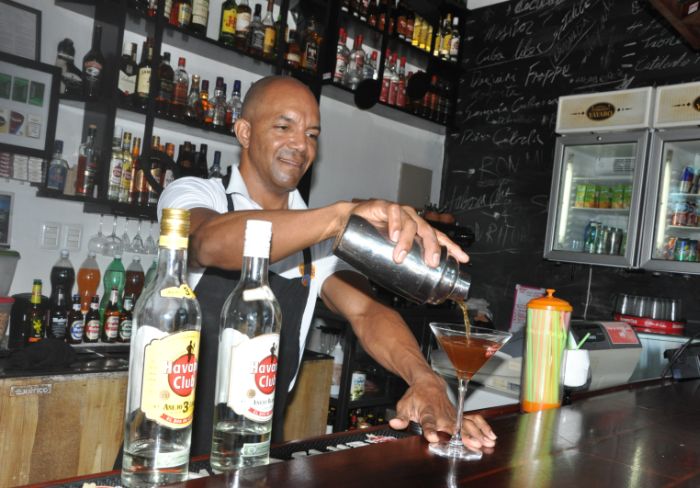 Havana, Cuba, Jun 4 (acn) Cuban bartender Amaury Cepeda won the 11 th Havana Club Cocktail Grand Prix after beating 12 other contenders in the last day of the event that started on May 30 in Havana.
This event, considered the oldest in the world, brought 45 bartenders from 43 countries to compete in Havana, and included seminars, conferences and workshops for 5 days.
The winner, Cepeda, works in his hometown Santi Spiritus at the Taberna del Yayabo. The cocktail that gave them the crown used Havana Club 3 years as based, mixed with guarapo (sugar cane juice). He received a Havana Club Máximo bottle, the best rum ever created by the Cuban masters, according to experts, and a fund to develop a personal project related to Havana Club.
Cepeda is the third Cuban to win this event that was created 20 years ago. In statements to Cuban News Agency, the proud winner said the best part of the tournament was to share ideas and knowledge with some of the best bartenders of the world.
Second place went to Veilandas Povilas, from Lithuania, one of the few women present in the competition, who showed great charisma and skills during the two-day contest
Manan Krause, from Germany, won the third place while the People´s Choice award went to Danish Kleist Terkel.
Havana Club International and the Cuban Bartenders Association organized this event that is held every other year, and has won steadily a reputation as a hard to win competition.
Havana Club International is a joint venture between French spirits giant Pernod Ricard and Cuba Ron SA. It sells 4 million 9-liter cases, placing Havana Club brand as the fifth largest rum producer in the world, and 21 st among all spirits.
The Cuban Bartenders Association, the first of its kind in the world since its inception in 1924, gathers 2400 barmen through the island nation