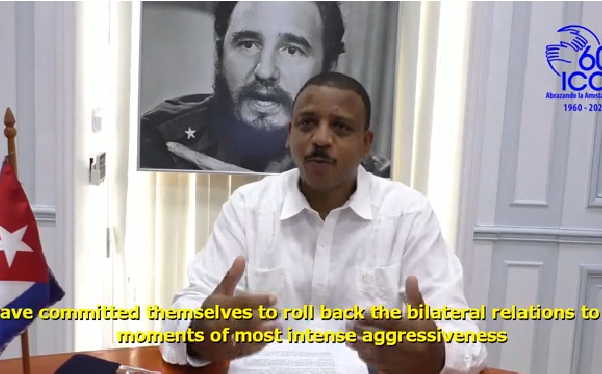 HAVANA, Cuba, Sep 17 (ACN) The United States maintains frank and open hostility towards Cuba, based on the tightening of the blockade that it has imposed and other actions, a representative of the Ministry of Foreign Affairs (MINREX) noted.

During a virtual forum of solidarity with Cuba, the director of bilateral affairs at the General Directorate of the United States at MINREX, Yuri Gala, pointed out that the economic, commercial and financial blockade against Cuba is a failed policy and affects its people.
The diplomat added that those sanctions are the main obstacle to his country's development and to relations between the two States. He pointed out that the current US Government favors confrontation.
In the framework of the 'We Have Memory, Solidarity vs. Blockade' event, organized by the Cuban Friendship Institute, Gala explained how Washington aims with its actions to suffocate Cuba's economy and thus promoting the overthrow of the Revolution.
Washington is trying to take relations to the point of most aggressiveness, so that it will be more difficult in the future to establish respectful and civilized ties, so it resorts to statements by officials with a disrespectful, aggressive and threatening rhetoric with electoral purposes, Gala added.
He listed the measures to tighten the blockade over the past two years, including commercial and financial persecution by closing bank accounts, refusing to made transactions and fines.
The diplomat stressed that more Cuban institutions are added to the list of restricted companies, and oil supplies to the country are hindered.