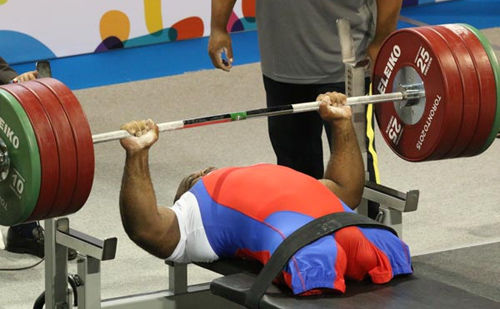 HAVANA, Cuba, Jun 21 (ACN) With the 15th place of Oniger Drake today in the division of up to 88 kilograms (kg), Cuba finished without medals in the World Para Powerlifting in Dubai, in the United Arab Emirates, a competition that closes the qualification for the Paralympics.

Drake, a 49-year-old with a body weight of 85.68 kg, lifted 170 and 177 kg lying down on the bench press, but failed with 181 kg, according to the International Paralympic Committee's results table.

Thus, the World Cup champion and fourth at the 15th Paralympics, both in Rio de Janeiro in 2016, came 15th in Dubai in a competition of 18 contenders from Asia, Europe, Africa and the Americas.

The gold was for Jordan's Abdelkareem Khattab, who broke the world record twice and left it at 240 kg, while the Chinese Jixiong Ye (236 kg) and Xiaofei Gu (234 kg) won the silver and bronze medals
.
Danilo Rodriguez, champion of the Toronto 2015 Parapan American Games; Cesar Rubio, winner of the Lima 2019 World Cup and the Rio de Janeiro 2007 and Guadalajara 2011 Parapan American Games, as well as Leidy Rodriguez, continental champion at the Lima 2019 Games, also competed for Cuba.

Danilo finished ninth in the up to 65 kg division, Cesar was sixth in 54 kg and Leidy fifth in 41 kg.

After the World Cup, which gathers some 250 weightlifters from 54 nations until the 24th, the International Paralympic Committee will announce the final list of weightlifters qualified for this summer's Paralympics in Tokyo, Japan.