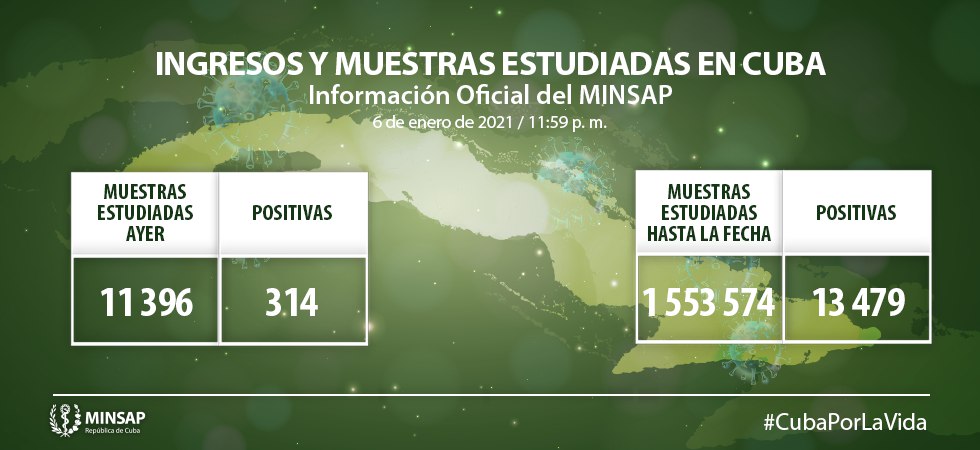 HAVANA, Cuba, Jan 7 (ACN) Cuba reported today the highest number of active cases of COVID-19 since last March: 1,916 people admitted with a positive diagnosis for the SARS-CoV-2 virus, which causes the infectious disease.

So it was reported in the usual press conference of the Ministry of Public Health of Cuba (MINSAP), in which Dr. Francisco Durán, national director of Epidemiology, assured that the country has the necessary capacities to provide medical care to all the infected, be they symptomatic or not.

According to MINSAP´s report, yesterday´s closing number positive tests amounted to 314, for a cumulative of 13,479 confirmed since last March.

During the day, 142 discharges were granted, with which the country reaches 11,390 patients recovered from the disease.

Durán highlighted that Cuba is among the nations with the highest percentage (%) of people recovered from COVID-19, with 84.5%, compared to 70.9% reported worldwide.

The death toll remains at 148, since there were no deaths yesterday, he confirmed.

Of the 1,916 active cases, he added, 1,898 patients show a stable clinical evolution, 8 are critically ill, and 10 are in a serious condition.

The health authority announced that 239 of the cases reported today are indigenous and 75 imported, mainly from countries such as the United States, Canada, Mexico, Panama, Spain, Poland and the Dominican Republic.

The provinces with the highest number of cases were Havana, Santiago de Cuba and Guantánamo, the latter having the highest incidence rate in the last 15 days.

Dr. Durán pointed out that according to studies carried out in Cuba, COVID-19 can cause lung, kidney and cardiovascular damage, especially in people suffering from high blood pressure, diabetes mellitus and chronic obstructive pulmonary disease.

Even in some children, he warned, cardiovascular alterations have been identified after having suffered from COVID-19.