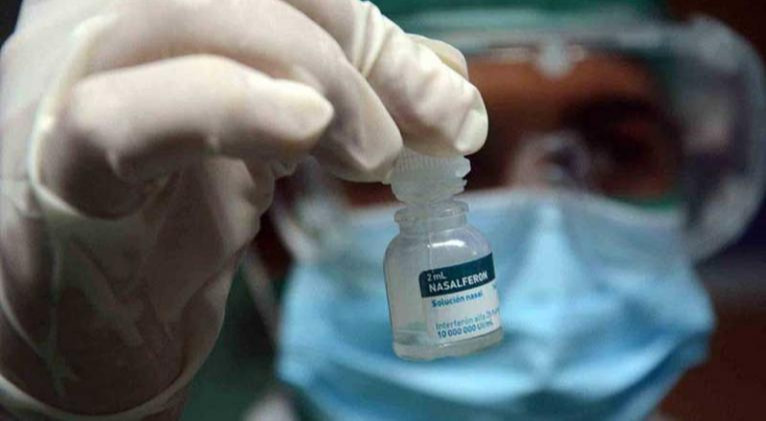 HAVANA, Cuba, Jan 7 (ACN) The application of the Cuban product Nasalferón, starting today in Havana, to travelers and their family members, was announced today in a session of the Provincial Defense Council (CDP), in this capital city, as part of the struggle against the COVID-19 pandemic

Ileana Morales, director of Science and Technological Innovation at the Ministry of Public Health, explained that the medicine, in drops, will begin to be applied this January 7 in the municipalities of Boyeros and Diez de Octubre and then extended to the rest of the province, as the radio station Radio COCO announced on its official website.

According to the report, this product is an immunoprotector derived from Cuban interferon that has been used with 93 percent effectiveness in the medical personnel in the red zone of the hospitals where the pandemic is being fought, and in health collaborators
.
One nasal drop will be administered in the morning and another at night, for five to ten days, whereas the relatives should start the treatment three days before the traveler's arrival, the expert said.

Nasalferon is a Cuban biotechnological prophylactic medicine that, according to specialists, avoids replication of SARS-CoV-2 virus, which causes COVID-19, and modifies the amount of colonies present in the organism. It also strengthens the immune system and prevents the infected from developing severe symptoms.
Yesterday, Luis Antonio Torres and Reinaldo García, Havana CDP president and vice president, respectively, reviewed the epidemiological situation of the province was made.

Currently, there are 235 active outbreak controls in the city´s 15 municipalities, all of them with tighter measures, and up to date, 1,689 contacts are kept under surveillance.

At the daily meeting of the CDP, the causes of the failures to deliver Havana's agricultural products to the farmers' markets and the penalties imposed on those responsible were also analyzed.

On the subject of agriculture, both officials insisted on the need to clarify the responsibilities of Havana's agricultural companies and to inform the Council about the provisions implemented.