Business Forum Russia-Latin America and the Caribbean held in Havana
Share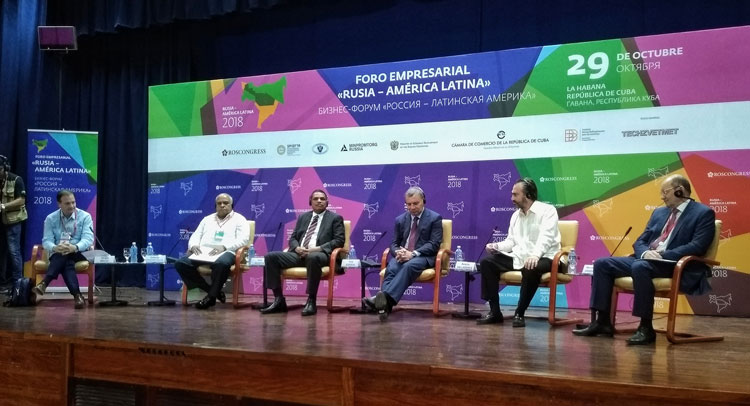 HAVANA, Cuba, Oct 30 (ACN) The perspectives for commercial, economic and investor cooperation focused the attention of the participants in the II Business Forum Russia-Latin America and the Caribbean, developed for the first time in this capital, within the scope of the XXXVI International Fair of Havana FIHAV 2018.


The event constitutes a platform for interaction between directors of large Russian and Latin American companies, as well as representatives of ministries and governments of the area and the Eurasian nation.
Orlando Hernández Guillén, president of the Chamber of Commerce of the Republic of Cuba, stated that Russia is a strategic partner for Cuba, and that everything is favorable for cooperation and working together.
Yury Borisov, deputy prime minister of the Russian Federation, said the nature of economic relations between Cuba and his country is in the middle of a change: if before there was talk of sending supplies, now the goal is joint development.
He predicted that progress would be made in Russian investment in Cuba and that projects such as the development of the Cuban railroad will create jobs, increase the nation's transportation capacity and could establish links with tourism and industry.
Russian interests for Latin America are not intended to obtain one-day results, but for the long term, he emphasized.
Representatives of other nations in the area agreed that their countries can do and give much more, so events of this type have a special significance.
At the inauguration of FIHAV 20108, Rodrigo Malmierca Díaz, Minister of Foreign Trade and Investment, considered that the forum is one of the novel aspects of this edition of the commercial exchange, in which more than three thousand exhibitors from some 65 countries participate.