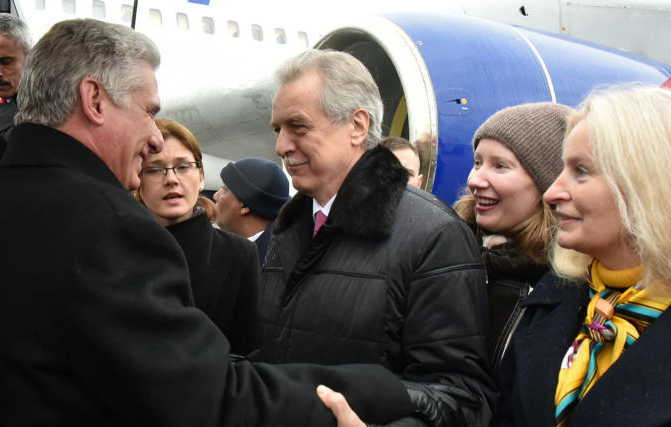 HAVANA, Cuba, Oct 27 (ACN) The Cuban President Miguel Diaz-Canel arrive this Sunday noon at Pulkovo I airport in St. Petersburg. He begins a three-day working visit to Russia in this historic city, culminating his tour of several European countries.

After a three-hour flight from Baku, the Azeri capital that hosted the last days of the XVIII Summit of the Non-Aligned Movement, the president was received by Evgeny Grigoriev, president of the Foreign Affairs Committee of the local government. Commander in Chief Fidel Castro arrived in the same city for the first time in April 1963, when for almost a month he was visiting places in that country.
Waiting at the airport for Díaz-Canel were the vice-president of the Council of Ministers, Ricardo Cabrisas Ruiz, the minister of Energy and Mines, Raúl García Barreiro, and the Cuban ambassador in Russia, Gerardo Peñalver Portal.
The journey of the President and his delegation - which began in Ireland, Belarus and Azerbaijan - now continues through Russia where, according to the official agenda, he will hold meetings with the highest authorities of that nation, with important Russian businessmen and a representation of Cubans residing there. He will also visit places of marked economic, historical and cultural interest.
Relations between the two countries have a long history. They began in 1902, with the then tsarist Russia. Decades later, diplomatic ties between the Soviet Union and Cuba were instituted and interrupted after Fulgencio Batista's coup d'état in 1952. A little more than a year after the triumph of the Cuban Revolution, the diplomatic ties that survive in very good health were re-established.
From a fluid exchange at the highest level, political ties have been constantly strengthened and developed. The visits made to the island by President Vladimir Putin in 2000 and 2014, and by the President of the Government, Dimitriv Medvedev, in 2008, 2013 and the recent October 2019 are proof of this. Also those of the Army General Raul Castro to Russia in 2009, 2012 and 2015; and, finally, the one carried out by President Diaz-Canel in November 2018.
With a population of more than 146 million people and a strong economy, Russia is today a determining world political actor, an ally of Cuba for many years.