Over 4 thousand Cuban doctors already arrived from Brazil
Share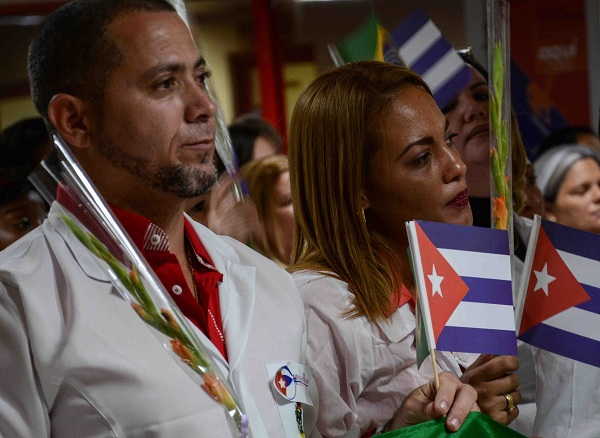 HAVANA, Cuba, Dec 6 (ACN) With the arrival this Wednesday to Havana of 205 health professionals, the total amount of doctors that have returned from Brazil is 4,115, since Cuba decided not to continue in the More doctors Program.
This is flight number 20 with such a precious human load and the second in the day, and in terminal three of the José Martí international airport, they received - like the rest of their compatriots - samples of gratitude from the Party, government and health authorities.
Before Ulises Guilarte de Nacimiento, member of the Political Bureau and secretary general of the Cuban Workers Federation, and other leaders, Doctor Milagros Caridad Pupo Ocampo recalled the hard initial days at the South American giant, where they grew up in the face of difficulties.
It was up to this youngster, a specialist in General Integral Medicine and Intensive Care, to speak on behalf of the new arrivals and their experiences in the municipality of Santa Rita, in the State of Paraiba, which were a reaffirmation of the reasons for the rejection by millions of Brazilians of the position of the president-elect, Jair Bolsonaro, towards Cuban doctors.
In addition to caring for a very poor population, which had been without a doctor for four years, the community welcomed me with affection and gratitude, and keeps sending me messages expressing their deep regret at not being able to continue counting on our services, and their disagreement with Bolsonaro, she said in the simple and moving act.
I return with the satisfaction of having diminished the indicators that affected this population, especially of foreseeable and transmissible diseases, of attending to many Brazilians who, with serious health problems, had never known a doctor, much less of having been visited in their modest homes," said Pupo Ocampo.
Doctor Santiago Badía González, general secretary of the National Union of Health Workers, said that with their revolutionary, altruistic and selfless training, Cuban professionals challenged all kinds of hazards in villages, favelas and jungles to bring health care to more than 700 communities for the first time.
Bolsonaro, with his racist and xenophobic foundations, did not mind questioning one of the main conquests of the Cuban Revolution, public health, said the speaker.
You are ambassadors of decorum and dignity, Badía González told the newcomers from Brazil.