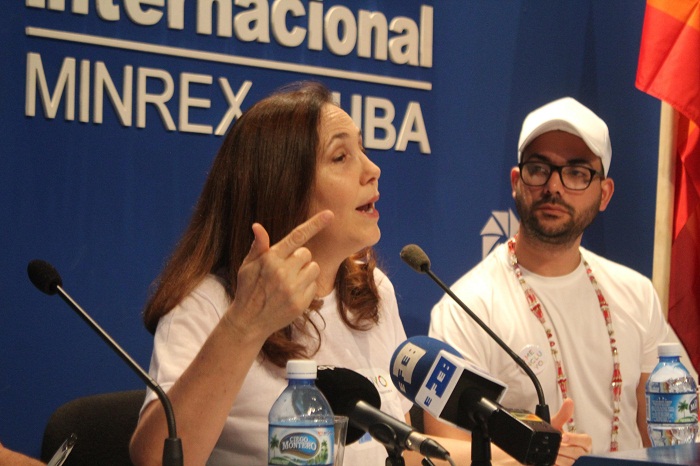 HAVANA, Cuba, May 4 (ACN) The 11th Edition of the Cuban Activities against Homophobia and Transphobia began on Friday and as the previous campaign, they will be dedicated to the schools where there will be a promotion on the respect to the freedom of sexual orientation and gender identity.
The Director of the National Center of Sexual Education (CENESEX), Mariela Castro Espin told the press in Havana that homophobia and transphobia are enrooted in the culture, social dynamics and relations between people and that is why we must focus the campaign in the classrooms, main cultural center of the community, it's strategic.
It is important, she said, to make the population sensitive to the issue and educate them, to overcome prejudice and be able to advance in the concreting laws that favor the lesbian, gay, bisexual, transexual and intersexual (LGBTI) relations.
Mariela Castro Espin also commented that there is little study on the island on the discrimination for reasons of sexual orientation and it's not centered in violence against homosexuals and transexuals, but in violence in general.
She also added that the investigations carried out with adult LGBTI activists resulted in that discrimination in the schools have repercussion in physical and mental health, access to education, academic achievements and perspectives of work, while creating a state of insecurity, fear and discontent.
For this reason, we must urgently sensitize student organizations for them to work as support networks before any manifestation of violence in educational centers, said Mariela.
The province of Pinar del Rio will be the site for the central activity of the series of events that will run until the 18th but Havana will also hold a group of important activities.
Some of them are the a Film Festival for Diversity from the Rampa to Malecon, several photographic exhibitions, a gala at the Karl Marx Theater against Homophobia and Transphobia and the post graduate course Diversities. Conceptual lines for its Understanding and Discussion.
The special activity called Cuban Conga against Homophobia and Transphobia will be held from Linea and Paseo Streets to the Jose Antonio Recreational Center on May 12th at 6:30pm.
The activities have the support of the Cuban Communist Party, Education Ministry, Federation of Cuban Women, Workers Confederation and other institutions, and organizations of civil society.