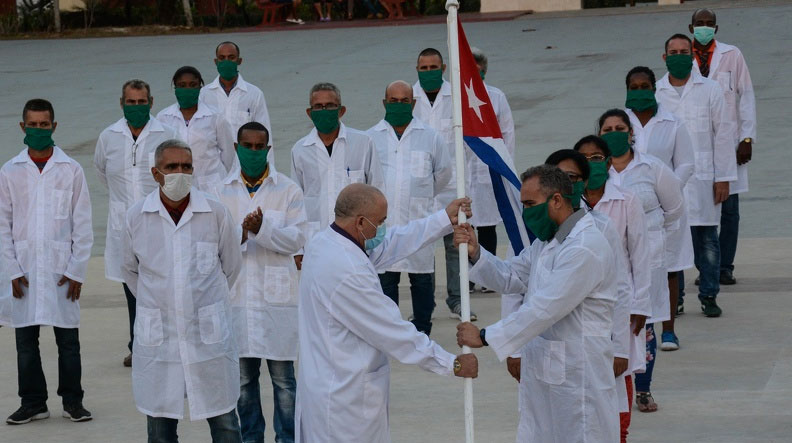 HAVANA, Cuba; Sep 7 (ACN) The call to grant the 2021 Nobel Peace Prize to the Henry Reeve Cuban medical brigades finds support online through French initiatives, in which Internet users from different parts of the world added their voice today.

International solidarity is not a simple word for Cuba, which deserves support and not the blockade of the United States, points out one of the 618 comments that the website MesOpinions.com includes in the request to recognize the Cuban health professionals present around the world in the fight against COVID-19.
"By their courage, self-denial and for the value of the example they offer to the world," says another Internet user on the French site, which collects more than 2,200 signatures in favor of the award, according to Prensa Latina news agency.
The Henry Reeve contingent was created in 2005 by the historical leader of the Cuban Revolution, Fidel Castro, as a result of the scourge of poor American communities by Hurricane Katrina, and since then thousands of its members have provided assistance to countries in Latin America and the Caribbean, Asia and Africa hit by natural disasters and epidemics.
In the current context of COVID-19, solidarity aid arrived for the first time in Western Europe.
This solidarity can no longer be hidden by the mainstream media, because despite the infamous blockade imposed by the United States, Cuba sends its army in white coats all over the planet to face the pandemic, the Cuba Linda and France Cuba associations underlined in the call supported by more than 200 organizations from Europe and Latin America.
The platform launched in late April to advocate for the Nobel Peace Prize for the Henry Reeve Brigades also includes a Facebook group with around 4,300 members.
This site discloses the actions of Cuban doctors in the fight against the pandemic and the calls of politicians, parliamentarians, trade unionists, intellectuals and people in solidarity to be recognized with the award.