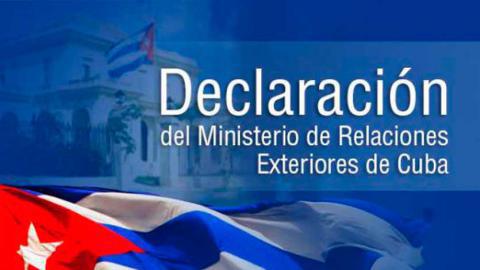 HAVANA, Cuba, Nov 10 (ACN) The Ministry of Foreign Affairs of Cuba released a statement denouncing the coup d'état in march against democratically re-elected president Evo Morales in Bolivia.

The statement reads,
On October 20, on an election day characterized by broad popular participation, the Bolivian people elected as President of the Plurinational State of Bolivia, Brother Evo Morales Ayma. Evo's historic victory, against the manoeuvres of the internal and regional right, Imperialism and an intense media war, is also a triumph for the entire Great Homeland.
Disregarding the electoral institutions and the popular mandate expressed at the polls, sectors of the Bolivian opposition, with the support and leadership of the U.S. and regional oligarchies, have launched a coup d'état with the objective of hiding the electoral result from the Bolivian people. The opposition coup strategy has unleashed intense days of violence in that country, which have cost deaths, hundreds of wounded and condemnable expressions of racism towards native peoples.
The President of the Republic of Cuba, Miguel Díaz-Canel Bermúdez, has declared that a coup d'état is under way against the legitimate President of Bolivia and that the opposition refuses to acknowledge its defeat at the polls and resorts to violence and force against the constitutional order.
We strongly denounce the coup d'état under way against the legitimate President of Bolivia and call on all sectors involved to stop this dangerous manoeuvre, which constitutes a threat to the stability of Bolivia and the entire region.
We support the call of President Evo Morales Ayma, who in a further demonstration of equanimity and political stature, summoned the political forces to a table of dialogue for peace in Bolivia, called the organizers of the violent protests to "deep reflection" and urged the people to mobilize to defend democracy.
We express the firm support of the Cuban government and people for Brother Evo Morales Ayma, the legitimate President-elect of Bolivia, and for the Process of Change that he is leading in favor of the great majorities, which shows unquestionable successes in admirable economic growth and in the extraordinary social advances achieved, in particular the demands of the original peoples. We call upon the International Community to stand on the side of legality and peace, in observance of International Law and the postulates of the Proclamation of Latin America and the Caribbean as a Zone of Peace and to condemn the coup adventure of imperialism and the oligarchy.
Havana, November 9, 2019