Cuba and Vietnam Sign Five Commercial Agreements
Share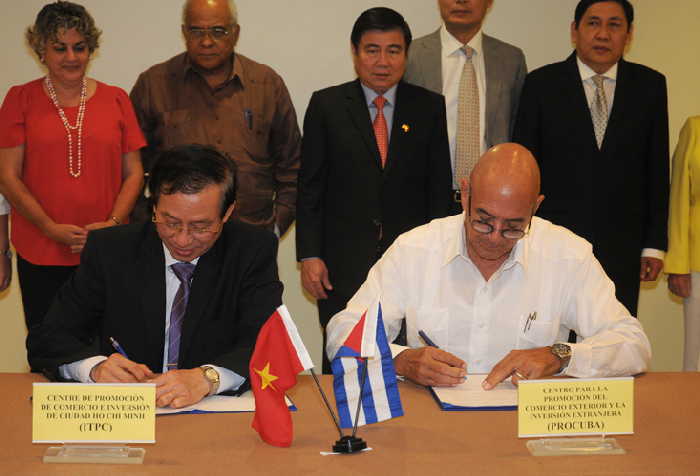 HAVANA, Cuba, Jun 4 (ACN) Directives of Cuban and Vietnamese companies signed on Monday five commercial agreements in the framework of the Conference for the Promotion of Investment, Trade and Tourism in the city of Ho Chi Minh.
The new accords are aimed at encouraging exchanges of products and services among the promotion trade centers of both nations, Thai Binh Company, Artex Corporation, Nexus Industries S.A and tourism entities.
During the opening of the event, the President of the Peoples Committee of the city of Ho Chi Minh, Nguyen Thanh Phong highlighted the historic solidarity and cooperation ties between Cuba and Vietnam fomented by its maximum leaders.
He observed that the Cuban market has great potential for the Vietnamese companies to develop and invest especially in the fields of tourism, agriculture, food and consumer goods, while Cuba has potential in pharmaceutical products, medical assistance and construction.
The President of the Cuban Chamber of Commerce, Orlando Hernandez Guillen highlighted the positive increase of economic exchange with Vietnam, second trading partner in Asia.
During the encounter, representatives of institutions and entities from both nations exposed experiences and potential to increase the exchanges in the fields of renewable energy, tourism and furniture.
The Conference was presided by Vietnam´s ambassador to Cuba, Nguyen Hu Thang; the Director of Investments of the Foreign Trade Minister and executives of the participating companies.