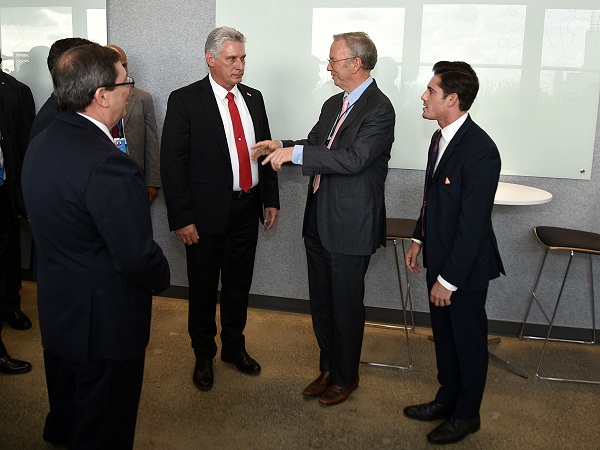 HAVANA, Cuba, Sep 25 (ACN) President of the Councils of State and Ministers of Cuba, Miguel Díaz-Canel held a meeting on Monday afternoon with several US executives the during his visit to Google's headquarters in New York, which was described as informative and fruitful.


Granma newspaper reports that executives of several US IT and Communications companies showed to the president particular interest in the potentialities of the Cuban market, as well as in the perspectives of development of the Caribbean nation.
Invited by Eric Shmidt, vice-president of Alphabet, Diaz-Canel talked with the attendees about the development of high technologies and their role in the advancement of developing countries. He also alluded to the challenges posed by these technological advances and their use in an increasingly unequal world.
During the meeting Diaz-Canel stressed that the information of society is a priority of the Cuban government. He also stressed that the economic blockade of the United States is the main obstacle to achieving the development of this sphere to its maximum capacity.
The president made reference to the valuable potential of human resources that the Island possesses to advance in areas such as those that motivated this close encounter; and highlighted the opportunities that open up in sectors of advanced technologies such as biotechnology.
The main directors of Google, VaynerMedia, Connectify, Mapbox, Mckinsey and Company, Virgin Group, AirBnB, Revolution, Twitter, Microsoft, Bloomberg, and Cresta attended, on the foreign side.
On the Cuban side, President Díaz-Canel was accompanied by Bruno Rodríguez Parrila, Minister of Foreign Affairs; Rodrigo Malmierca Díaz, Minister of Foreign Trade and Foreign Investment; and Jorge Luis Perdomo Di-Lella, Minister of Communications.
The importance of new technologies for education within a society, the political priorities of Cuba, as well as the direction that the island is taking in terms of technological development, were topics tackled between the Cuban president and his hosts.