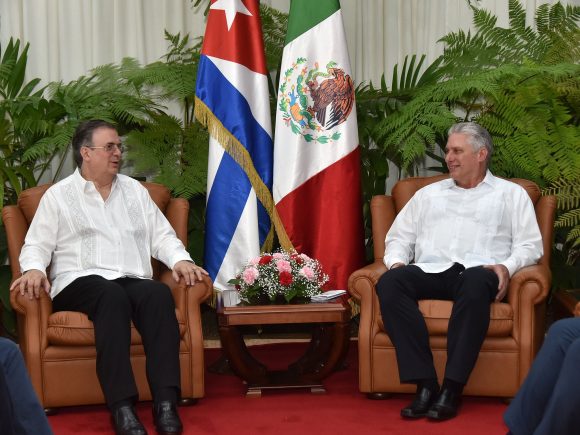 HAVANA, Cuba, Nov 10 (ACN) The First Secretary of the Cuban Communist Party Raul Castro and the President of the Republic of Cuba, Miguel Diaz-Canel Bermudez, received this Saturday the Secretary of Foreign Affairs of the United Mexican States, His Excellency Mr. Marcelo Luis Ebrard Casaubon, who is completing an official visit to Cuba.

In a cordial atmosphere, they congratulated each other for the continuity of the historical ties of friendship and cooperation between the two nations, and reiterated the will to consolidate the ties in the sectors of common interest. The occasion was also conducive to exchange on issues on the international agenda.
The distinguished visitor was accompanied by the head of the Presidency's Advisors, Lázaro Cárdenas Batel and the Mexican ambassador in Cuba, His Excellency Mr. Miguel Ignacio Díaz Reynoso.
On the Cuban side, the Minister of Foreign Affairs, Bruno Rodríguez Parrilla, and the Director General of the Latin America and the Caribbean Directorate of the Ministry of Foreign Affairs, Eugenio Martínez Enríquez, participated.