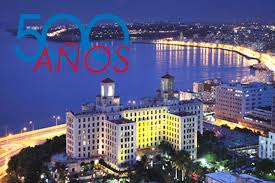 HAVANA, Cuba, Nov 13 (ACN) Representatives and delegations from different countries will participate in the celebrations of the 500th anniversary of the village of San Cristobal de La Habana, founded on November 16, 1519.

Among some of those already in Havana, Alvin Botes, Deputy Minister of International Relations and Cooperation of the Republic of South Africa, is outstanding, according to Marcelino Medina, Cuban First Deputy Minister of Foreign.
Nikola Nikodijevic, president of the Assembly of Belgrade, capital of Serbia, will also attend the celebrations, after the official invitation of the head of the Provincial Assembly of Havana, Reinaldo Garcia Zapata.
At the same time, a delegation from the Russia-Cuba Friendship Society is in Havana to attend the celebrations of Havana.
Besides, the digital web portal CubaSi, announced that a delegation of Cuban emigration organizations that are part of the Alianza Martiana Coalition in Miami will travel to the Cuban capital to celebrate its 500th anniversary.