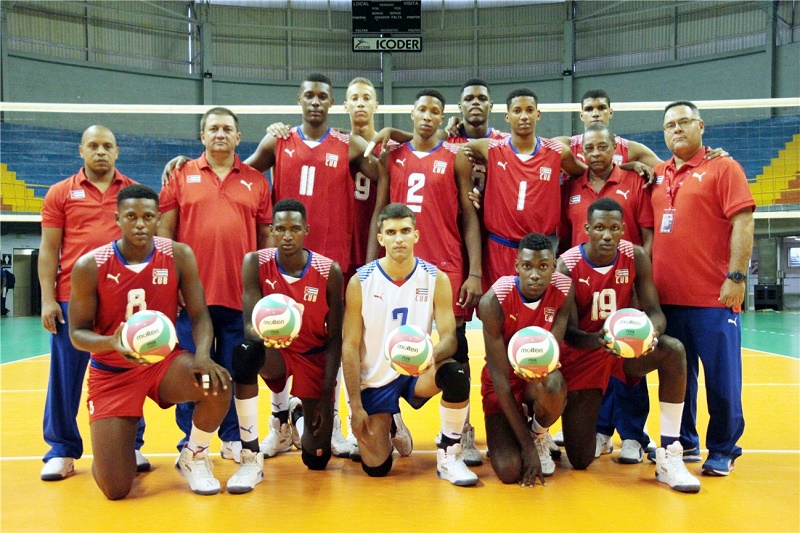 HAVANA, Cuba, Aug 22 (acn) Cuba debuted with victory over Tunisia at the opening of the 2019 FIVB Boys´ U19 World Volleyball Championship.

In match for Group A, Cubans won 3-0 (25-22, 25-14, 25-18) over the host team, according to the official website of the contest.
The attack of the winning side was very well distributed, and was headed by wing spiker José Miguel Gutierrez, who scored 10 points, followed by the also wing hitter Victor Andreu, and middle blockers Reynier Ibar and Luis Vidal, all with 9 units.
Setter Christian Thondike contributed 8 while opposite spiker Eduardo Hernandez amounted 6 points.
Aymen Bougerra, match top scorer with 14 units, and Elyes Bouachir (10) stood out for the local squad.
In the other game of Pool A, Belarus defeated China Taipei 3-2; while in B, Italy beat Bulgaria 3-2 and Czech Republic won over 3-0 Colombia; in Pool C, Argentina surpassed Mexico 3-1 and Egypt overcome Germany 3-2; and in the D, US and Nigeria beat both 3-0 the Dominican Republic and South Korea respectively.
Today´s program includes the games Cuba-Brazil and Tunisia-Belarus (A); Italy-Czech Republic and Bulgaria-Iran (B); Argentina-Egypt and Japan-Mexico (C) and United States-South Korea and Russia-Dominican Republic (D).
In the previous tournament (2017), Iran, Russia and Japan climbed to the top of the podium in this order, while the Caribbean island ranked 16th.
Cuba´s best performance in this category was achieved in the edition of 2011, in Argentina, where they earned a bronze medal. In 2013 they finished seventh and in 2015 they ranked tenth.
The 2019 FIVB Boys´ U19 World Volleyball Championship is attended by 20 squads and the best four teams of each of the four pools advance to the round of 16.