Ethiopian President Pays Tribute to Cuba's National Hero Jose Marti
Share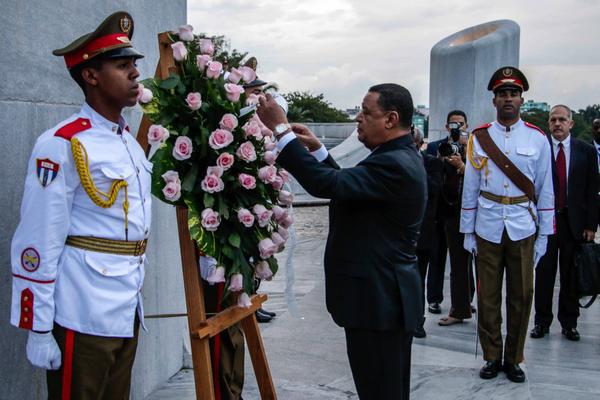 HAVANA, Cuba, Jan 9 (ACN) Ethiopian President Mulatu Teshome Wirtu paid tribute on Tuesday in Havana to Cuba's National hero Jose Marti before the Monument located in Revolution Square.
Cuba's Deputy Foreign Minister Rogelio Sierra accompanied the African leader during the ceremony and later toured the installation, which treasures valuable historic documents related to the life and work of the country's independence leader.
As part of the activities during the Ethiopian President's first visit to the island, he honored the Cuban soldiers that fell in combat in the liberation struggles of the African continent in the Pantheon of the Internationalist Combatants at the Cristobal Colon Cemetery.
The Ethiopian Head of State said that his country will never forget the Cuban government and people's contribution to the struggles for the preservation of the sovereignty and territorial integrity of the African nation.
Teshome Wirtu's agenda on the island, which will run until January 12th, also includes a visit to research, agricultural and animal centers and Old Havana, World Heritage Site.
This is the Ethiopian leader's first official visit to Cuba although he attended the funeral services for the leader of the Revolution Fidel Castro in December of 2016 in the eastern city of Santiago de Cuba.
Mulatu was elected President of Ethiopia on October 7th 2013 by the joint session of the Chamber of Representatives of the People's and Chamber of the Federation of the Federal Democratic Republic of his country.
Before the presidential election, he carried out important positions like ambassador to Turkey, President of the Chamber of the Federation and Minister of Agriculture.