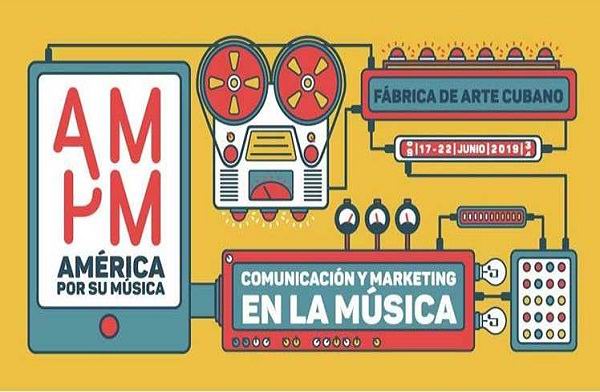 HAVANA, Cuba, Jun 19 (ACN) The fifth AM-PM America for Music 2019 event, with a focus on communication and marketing in music, will be held in this capital from this Wednesday until June 22 at the headquarters of the Ludwig Foundation of Cuba.

The meeting will open its doors with the panel Cuban Experiences of Communication in Music, in which singers and instrumentalists, producers and specialists of the island's sound industry will participate.
Singer Brenda Navarrete; Carolina Noa, from Bonus Track; Michel Boutic, from DBoutic Music Agencia Publicitaria Musical; Susu Salim Fabelo, from Puntilla Films; Marianela Ramos, from Bis Music label; and Gretel Garlobo, from MSK, will share experiences at the event, informed the AM-PM communication team on the social network Facebook.
The event will also be hosted by the Casa de las Américas, the Union of Writers and Artists of Cuba (UNEAC) and the Cuban Art Factory (FAC), where panels, conferences, exhibitions and workshops will be given by Cuban and foreign professionals and creators.
The concert to be offered by the Colombian group La Mambanegra on Friday, June 21, coinciding with the closing of the International Colloquium on African American Studies, in the Che Guevara room of the Casa de las Americas, is one of the highlights of the event's program.
AM-PM is a space for debate and the exchange of experiences on the course of communication and marketing in music, but also for the enjoyment of it, hence it will include in its billboard of activities the realization of important presentations.
Thus, on Saturday 22nd, Maxim Rock will host the Argentine band Alto Guiso with Nahuel Briones, and the Cuban bands Mephisto and Zeus at nine o'clock in the evening; while at 12 o'clock, and as the final point of the meeting, a Cuban-Colombian mix between Telmarys and Habana Sana and La Mambanegra will be enjoyed at the Bertolt Brecht Cultural Center.