Youth and Students Festival Concludes in Cienfuegos
Share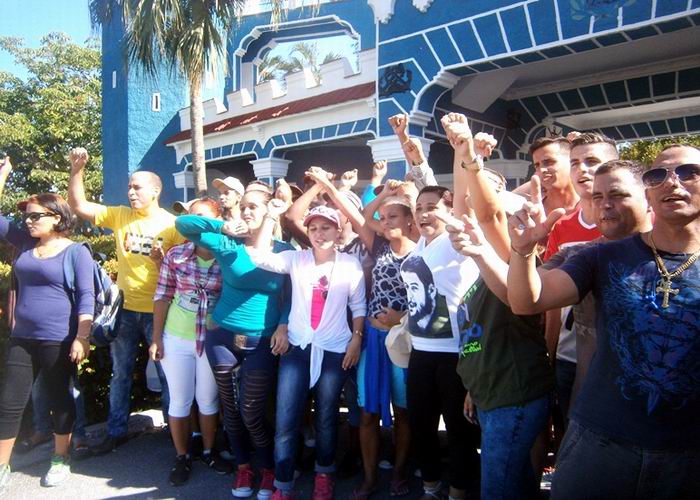 Cienfuegos, Cuba, Jul 11 (ACN) The provincial Festival of Youth and Students concluded on Tuesday in Cienfuegos with an anti-imperialist tribunal and the presentation of the territory's representatives to the world youth event in Sochi, Russia.
With the presence of Sucely Morfa Gonzalez, First Secretary of the National Committee of the Young Communist League, (UJC) and delegate to the world event for the province of Cienfuegos, the youngsters of the territory participated in a tribunal where the locals denounced the effects of the imperialist policies and US economic blockade.
The Sub Director of the Gustavo Aldereguia Lima Provincial Hospital, Moises Santoas denounced US government policies that have brutally denied the Cuban people the purchase of important medication and technology to treat patients with chronic ailments.
Families of patients affected by accidents or cerebral diseases and professionals from the autism school in Cienfuegos denounced how the US policy have limited children and people with special needs to improve or help solve their health problems.
The representative to Sochi, President of the Federation of University Students (FEU) in the University of Medical Sciences, Fernando de la Mora Martin, read a Declaration of the delegation from Cienfuegos condemning imperialism. The students ratified their decision of the younger generation of students and workers to fight for the achievements of socialism, attached to the ideas of the leaders and history of Cuba.
Kirenia Biscay de la Cruz and Vivian Guillen Beltran are the two guests of the province to the World Festival of Youth and Students, thanks to their prestigious in work, integrity and social commitment.
The direct delegate of Cienfuegos, Yusniel Perez Naranjo, non-state transportation worker was presented and will represent the territory alongside other workers and students to Sochi.
During Tuesday's program, the participants to the provincial edition of the festival shared experiences with the people of Cienfuegos and attended the artisan, agricultural and food fairs.
They also participated in productive work in the Naval Museum of Cienfuegos, only of its type in Cuba with important reconstruction actions.