Productive Exchange Between Cuban and US Academics takes place in Havana
Share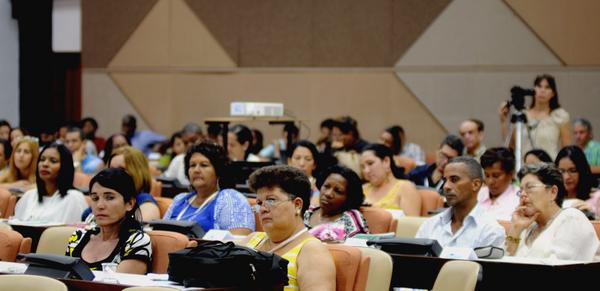 HAVANA, Cuba, Apr 12 (acn) Scientific collaboration, trade and sustainable prosperity in Cuba were among the topics discussed at the first scientific-academic meeting between the Institute of Plant Health Research (INISAV by its Spanish acronym) and the universities of Havana and Florida.

The exchange took place in the context of the 8th International Scientific Seminar on Plant Health, in which the experts also analyzed the possibilities of exporting fruits and vegetables from Cuba to the United States.
In that sense, Dr. Betsy Anaya, a researcher at the Center for the Study of the Cuban Economy at the University of Havana, said that in order to achieve the above, it is necessary to eliminate the economic, commercial and financial blockade imposed by US to Cuba for more than 50 years.
She stressed that the restrictions by the US market are not only with these agricultural products but also with other items.
Carmen Diana Deere, Professor Emerita of the University of Florida, commented that they are developing studies, with the aim of understanding the export and distribution system of both countries for future collaboration projects.
Dr. Berta Lina Muiño, INISAV executive, described the space as an integrator, as they also analyzed how dangerous pests in Florida can be introduced in Cuba and affect plantations.
Jem Graham, a professor at the University of Florida, lectured on the sustainable production of citrus in endemic conditions of the Huanglongbing, a disease caused by bacteria that affect that crop.
In addition, there were also held workshops on the Cuban experience in the biological control and use of chemical pesticides.
More than 200 delegates from a dozen countries attend the event, which began on Monday and will end next Friday.