Miami Activists Close Year with Meeting for the Five
Share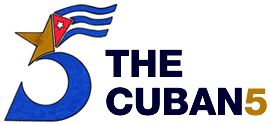 HAVANA, Cuba, Dec 15 (acn) Activists with the Miami-based Martiana Alliance Coalition close their 2014 agenda with a meeting on Sunday, December 14 to demand the release of Gerardo Hernandez, Ramón Labañino and Antonio Guerrero, three of the five Cuban anti-terrorist fighters, who are still held in US prisons.
According to a news release by the Alliance, the activists reviewed their work during the year and expressed their satisfaction with the actions taken in the period of time. A political activity counted on remarks by the president of the Foundation for the Normalization of US-Cuba Relations, Elena Freyre; Martiana Alliance leader Max Lesnik, who also leads the programming of Radio Miami; and by Andres Gomez, national coordinator of the Antonio Maceo Brigade and editor of Areitodigital Magazine.
Main points during the activity included the current situation of the three Cubans jailed in the United States, the possibility of a prisoner swap between them and USAID contractor Alan Gross, who is serving a 15-year prison sentence in Cuba for subversive activity. This issue is on the table in the United States since it was addressed by an editorial on The New York Times last November 2 as a moral obligation of the Obama administration in the case of Gross, the news release explains.
Speakers at the meeting also referred to the 2nd Encounter of Cuban Residents in the United States, recently held in Washington D.C., which was attended by a delegation from the Miami-based organizations. They also addressed the performance of local publications and Radio Miami radio station and the public rallies carried out during the year.
The activists were informed about the positive unfolding in Puerto Rico of a probe into the assassinations of independence fighter Santiago Mari Pesquera and Antonio Maceo brigade member Carlos Muñiz, whose perpetrators have been unpunished for over 35 years.